Steve Bannon Comes to the Central Valley This Weekend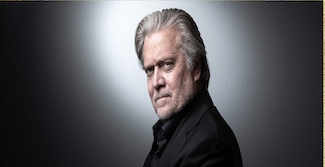 ***EVENT POSTPONED***
Former Trump Strategist to Headline a Powerhouse Lineup of Conservative Speakers
VISALIA, CA – Steve Bannon, founder and former chairman of Breitbart, former White House Chief Strategist, will be the special keynote speaker at the California Republian Assembly's (CRA) 2020 Annual Convention being held March 20th – 22nd in Visalia, California.
Bannon, who will be the special keynote speaker at a dinner event on Saturday, March 21, 2020, founded Breitbart News in 2007. In 2016, he was named the chief executive officer of Trump's 2016 presidential campaign. Following Trump's victory, Bannon was appointed Chief Strategist in the Trump administration, a position he left on August 18, 2017 and rejoined Breitbart.
Also speaking on Saturday will be Tony Gurule, Vice President of Radical Truth, rounds out Saturday's banquet speakers. Mr. Gurule's topic is the encroachment of Islam into American society and how to combat it. He is a full time missionary, speaker, and trainer. He speaks at political events and meetings, national and regional conferences, and seminars.
On Friday, March 20, 2020, George Papadopoulos kicks off the convention as the banquet guest speaker. Mr. Papadopoulos, author of Deep State Target: How I Got Caught in the Crosshairs of the Plot to Bring Down President Trump, is a former member of the Foreign Policy Advisory Panel to Donald Trump's 2016 presidential campaign.
The CRA convention will be held at the Lamp Liter Inn, located in Visalia, California. In order to comply with Governor Newsom's COVID-19 Executive Order, all meetings and events will be limited to under 250 attendees. So please note that tickets will be limited.
For a detailed list of events visit:
http://cragop.org/2020-cra-convention-you-dont-wanna-miss-it/
To register for the convention or purchase individual event tickets visit: https://tcra1.org/shop?olsPage=products
XXXXX