2021 Annual Convention – Saturday, April 17th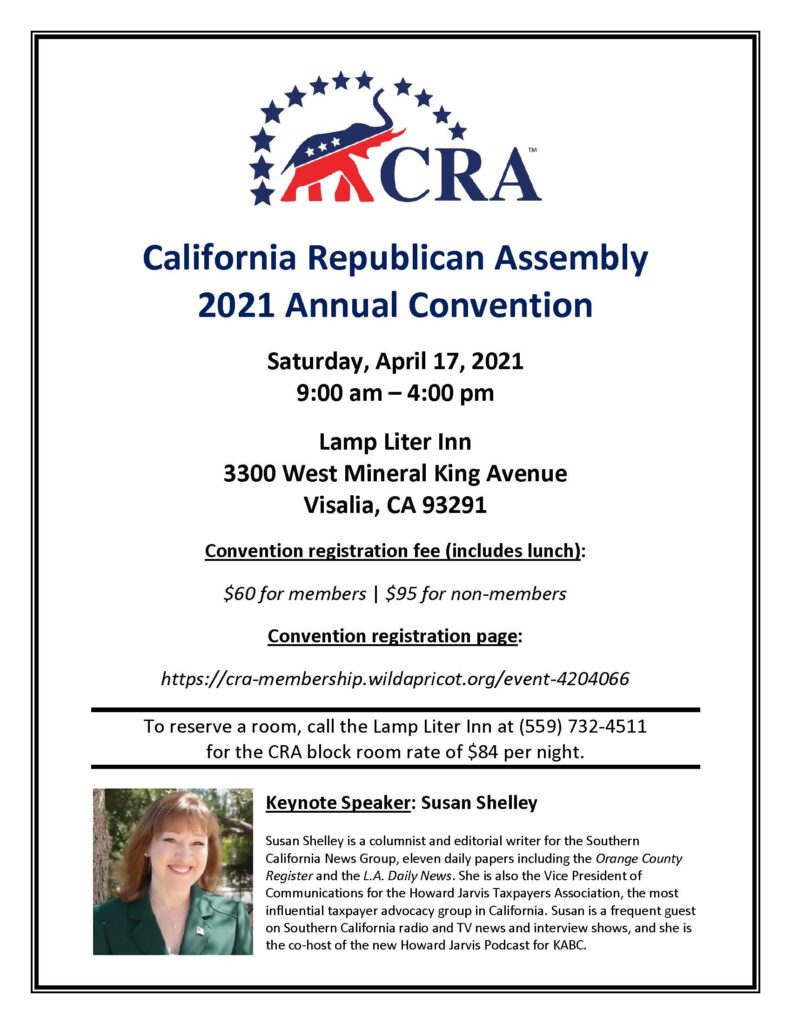 The CRA 2021 Annual Convention will be held on Saturday, April 17th at the Lamp Liter Inn, 3300 West Mineral King Avenue, Visalia, CA 93291. This will be a one-day convention. Doors open at 8:00 am with the call to order at 9:00 am and adjournment by 4:00 pm. There will be a brief CRA Board of Directors meeting after the conclusion of the convention.
The keynote speaker is Susan Shelley, a columnist and editorial writer for the Southern California News Group, eleven daily papers including the Orange County Register and the L.A. Daily News. She is also the Vice President of Communications for the Howard Jarvis Taxpayers Association, the most influential taxpayer advocacy group in California. Susan is a frequent guest on Southern California radio and TV news and interview shows, and she is the co-host of the new Howard Jarvis Podcast for KABC.
Convention registration is $60 for members, $95 for non-members, and includes lunch. Registration is online at https://cra-membership.wildapricot.org/event-4204066. For registration questions, please contact Pat Garcia at pat@escrow.net.
Room reservations are handled separately through the Lamp Liter Inn by calling (559) 732-4511. The CRA block room rate is $84 per night. For more information about the Lamp Liter Inn, check out the hotel's website at www.lampliter.net.
The convention agenda will be emailed to members and posted to the event page by the end of March.
See you in Visalia!
CLICK HERE to download Convention Flier