Becerra Falsely Claims He 'Never Sued Any Nuns'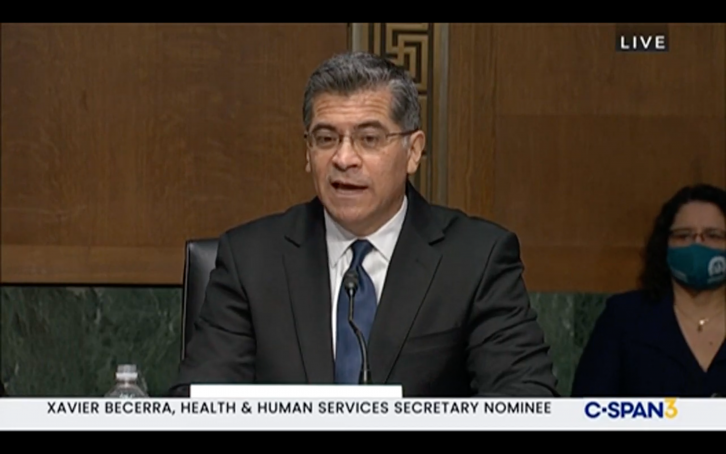 (WASHINGTON FREE BEACON) – President Joe Biden's pick to lead the Department of Health and Human Services Xavier Becerra misleadingly claimed he never took legal action against religious orders during his confirmation hearing Wednesday.
"I have never sued any nuns. I have taken on the federal government, but I've never sued any affiliation of nuns, and my actions have always been directed at the federal agencies because they have been trying to do things that are contrary to the law in California," Becerra said in response to a question from Sen. John Thune (R., S.D.). "It's my job to defend the rights of my state and uphold the law."
Becerra took legal action on a number of occasions over the course of his tenure as California attorney general that resulted in him facing off against the Little Sisters of the Poor, a Catholic order of nuns. The legal conflicts involved the Affordable Care Act's contraceptive mandates, which the Little Sisters objected to in court.
The Little Sisters attempted to obtain an exemption to the contraceptive coverage mandate because it violated their religious beliefs. They became locked in a years-long legal struggle with the Obama administration over the issue, which made its way to the Supreme Court.
The Trump administration attempted to resolve the situation by issuing an exemption to the coverage mandate for religious conscience reasons. But Becerra, as attorney general of California, joined Pennsylvania attorney general Josh Shapiro in suing the administration in 2017 over the guidelines that exempted religious employers from contraceptive coverage mandates. He sued again in 2019, objecting to the Little Sisters receiving an exemption under the mandate.
After lower courts ruled against the Little Sisters, the order twice appealed their case to the Supreme Court. The High Court ruled in their favor by a 7-2 margin in July 2020. But during his presidential campaign Biden pledged to revisit the legal battle.